I run a micro
Risograph print studio
, printing posters, flyers, and other odds-and-ends for local makers. During my free time, I like to experiment with this printing process by making my own work. I started designing these sequential patterns as an outlet for tending to things I over-think.
Redline Contemporary Art Center hosted its 10th Annual Epic Gala, a huge party and fundraiser that celebrates this amazing space for Denver artists. I was so lucky to design the invite. I planned out this double gatefold, amplifying the name with nothing but... red lines.

Photography credited to Ellen Bruss Design.
Team
Ellen Bruss, Creative Director
Ken Garcia, Art Director
Michelle Merlin, Designer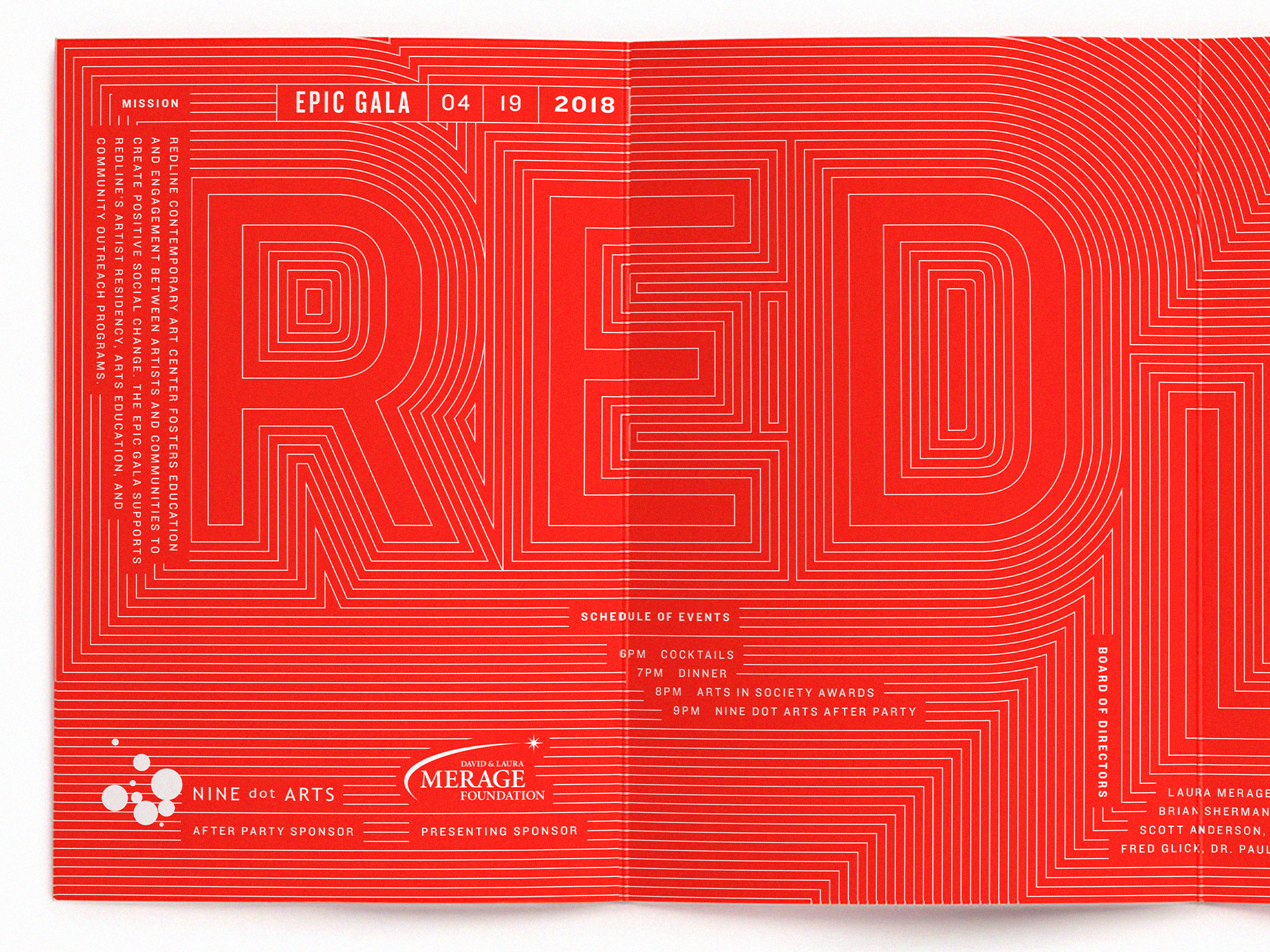 This etiquette zine is a visual response to Life, a Keith Richards autobiography. In the book, he forms opinions about people in uncommon situations—how one should behave while taking drugs, and what types of garments you can steal from your lover. Keith frequently refers to himself as a knight in shining armor, so this project presents him as a model for good behavior. Keith's experiences are re-crafted using an etiquette book's snobby verbiage, and childlike illustrations to reinforce his playful attitude.

Leevers Locavore is a new family-owned natural grocery store in Northside Denver. They specialize in bringing together the best local, natural, and organic food and beverages. They've built a welcoming neighborhood environment where guests can hang out, with local coffee and beer on tap. All the shopping carts have cupholders in them, encouraging you to sip a beer while you shop. The logo, color palette, and typography was designed by Good Apples. Jason Wedekind and I expanded the identity and planned key interior touchpoints.

Store photographs belong to Alden Bonecutter.

Team
Jason Wedekind, Creative Direction
Good Apples, Logo Design
Michelle Merlin, Identity Design
Chris Franklin, General Manager


Tavernetta is an Italian restaurant located in Denver's Union Station platform. The menu features plates and beverages inspired by Italy's multi-faceted Friuli region. Ellen Bruss Design developed the brand, stationery, menus, and web design. My role for this project was to design the logotype. Each letter was built from scratch, with inspiration drawn from old Italian marble street signs, and a subtle nod toward 1800s industrial lettering, fitting for a historic Denver train station.

Photos sourced from Tavernetta's instagram. Interior shot by Ryan Dearth.

Team
Ellen Bruss, Creative Director
Ken Garcia, Art Director
Michelle Merlin, Logo Design
Rosie Chenoweth, Print & Web