Oscar's Eats is a new Grab-N-Go Delicatessen located inside Leevers Locavore. Serving fresh sandwiches made with local ingredients. They have a grab-n-go section featuring seasonal, scratch-made items you can add to any meal. All made with long-loved family recipes.
Michelle Merlin, Brand Design, Illustration, Signage Design, Web & Social Media
This project was partnered with Jason Wedekind at Genghis Kern.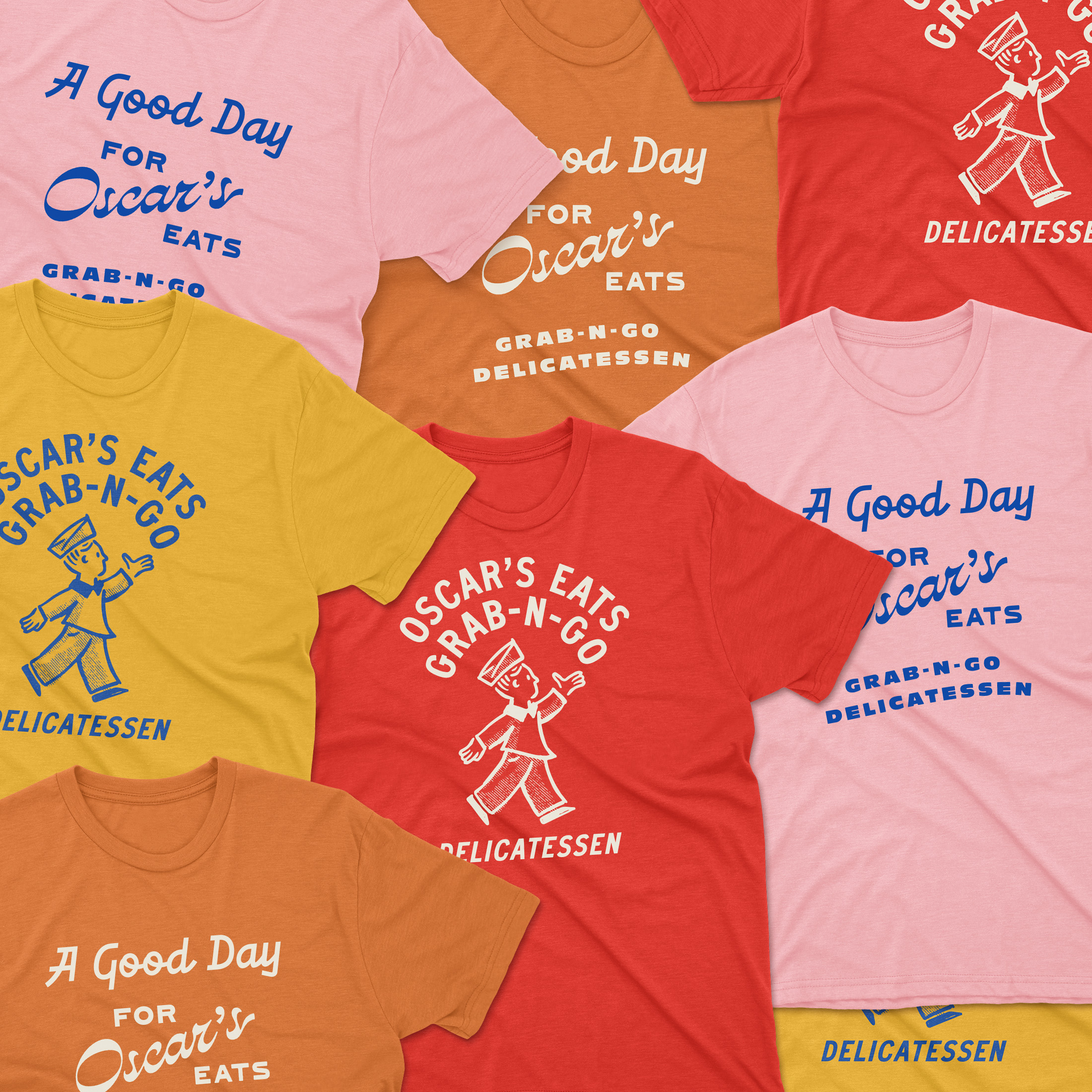 Whiskey Sour Happy Hour was a 5-part online variety show hosted by Ed Helms and The Bluegrass Situation. It ran during the early months of the 2020 pandemic as a means to cheer people up and raise funds for out-of-work musicians and PPE equipment for healthcare workers. It featured all our favorite Americana bands and comedians performing remotely for this very special event. I lettered the core brand and created pantry-style illustrations and layouts that shifted for each unique episode. This project was designed at The Made Shop.

Whiskey Sour Happy Hour not only offered much needed joy during a time of collective grief, it raised over $50k for MusiCares and Direct Relief.
Michelle Merlin, Branding, Lettering, Illustration, Copywriting, Video Overlays
Marke Johnson, Creative Direction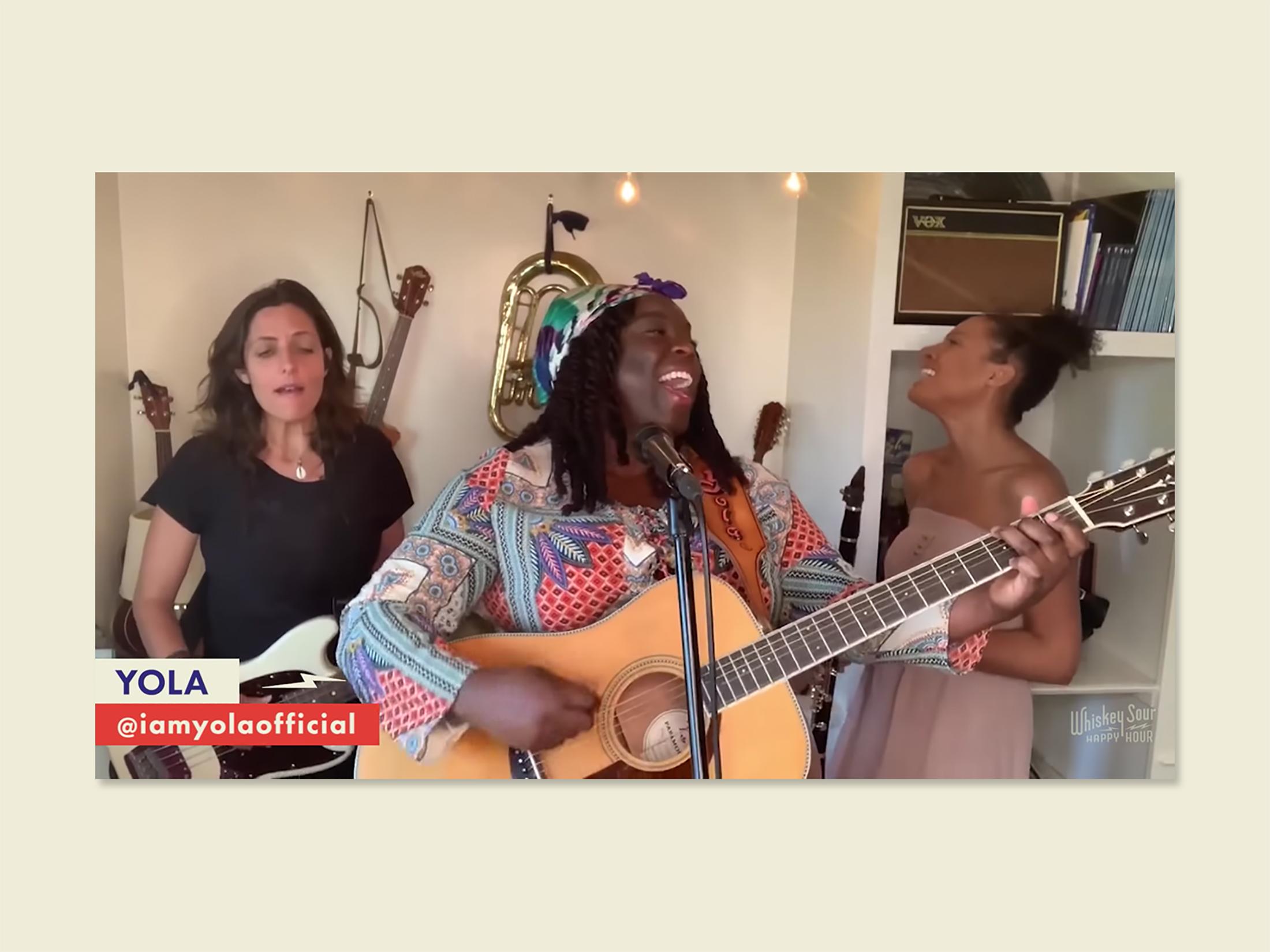 Wild Hare Floral Co.
is HollyAnn Bruns, an incredible wedding florist in Steamboat Springs. When I tell you how beautiful her work is... HollyAnn is a fellow dreamer with a knack for telling stories and weaving multi-sensory experiences into her work. I created a brand that supports the dream-like worlds she creates for her couples. This work blends together storybook-style design and illustration with lush art nouveau details sprinkled in. I've been living in this daydream for a few months and I can't put this book down.
Photo credits coming soon. Big thanks to HollyAnn for trusting me with her story, and inspiring me to make big moves. HollyAnn's floral work does all the heavy-lifting in this one. Behold.
This project includes a full rebrand, custom set of graphic badges, monograms, drop caps, and illustrations. A website overhaul, and full suite of social media templates.

Wild Hare Floral Co. is the primary brand. It encompasses all the unique facets of her thoughtful wedding floral design. This part of the brand has a light, airy, colorful presense.
We created a related brand for her Pretty Dead Flowers line. It has the same storybook treatment, but presented as the "moody cousin" of Wild Hare. Both books feel like they are part of a series.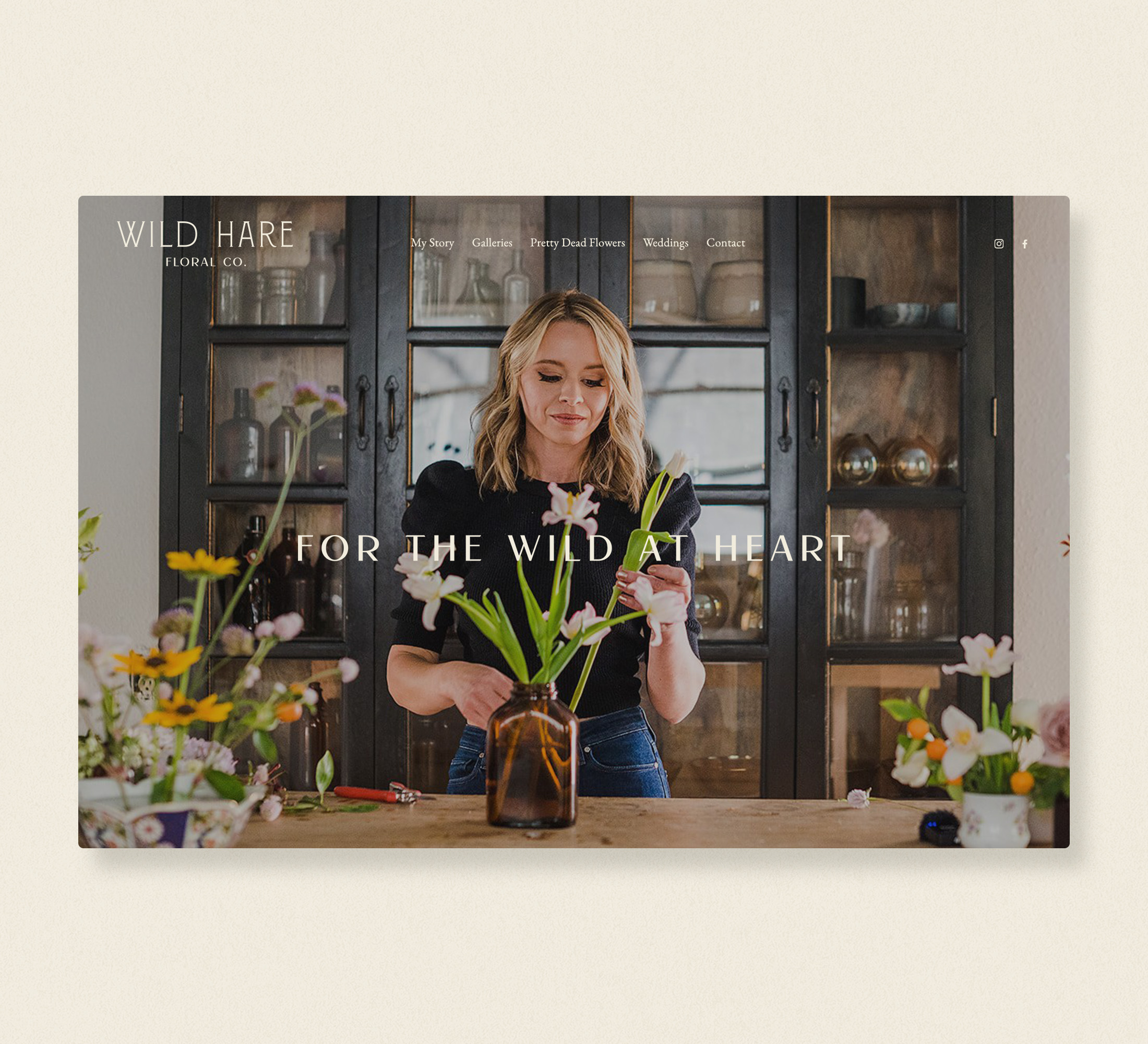 Double Dealer
is a subterranean cocktail bar, hidden beneath New Orleans' historic Orpheum Theater. The interiors are filled with theatrical misdirection and cinematic delights that unfold as guests move throughout the space. Being one of of the rare underground establishments in New Orleans, we created a visual identity that plays heavily in themes of mythology, mystery, and surprise.
For this project, I created the custom Art Nouveau-inspired lettering for the logotype, built out the brand system, illustrated the mysterious two-headed figures that appear throughout the night, designed the magazine-style menus, animated coasters, and cryptic copy-writing. As a big ol' nerd of symbolism and storytelling, this remains my favorite identity project to-date. Designed at The Made Shop.
This project won the
Visual Identity Award
at the 2021 Restaurant & Bar Design Awards
Michelle Merlin,
Design, Illustration, Lettering, Print Design, Interior Touchpoints, Copywriting, Mythology Weaving
Kyle Hunninghake,
Print Design
Adam Blake,
Creative Direction, Illustration
Marke Johnson,
Creative Direction, Signage
Kim Johnson,
Production Management
Farouki Farouki,
Interior Design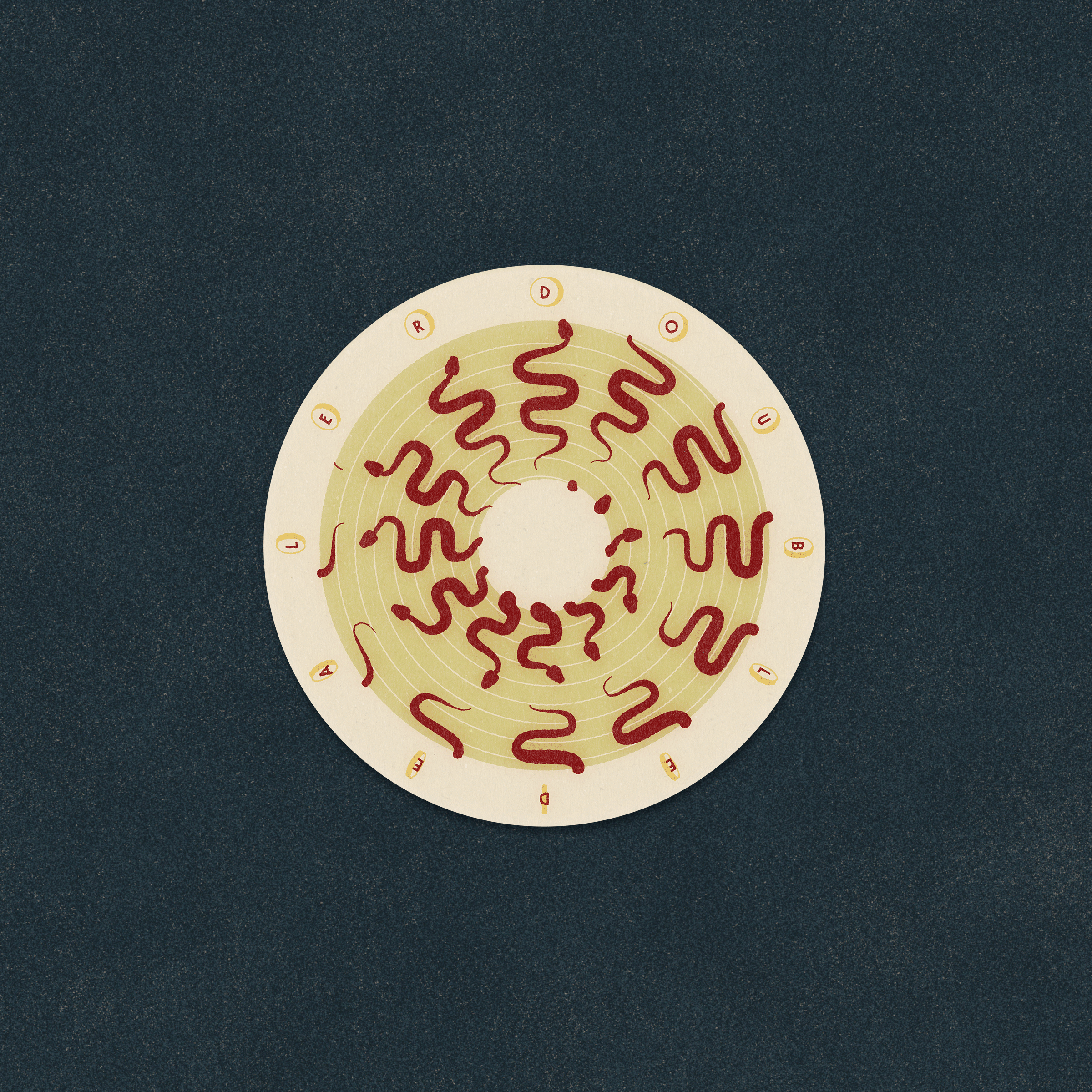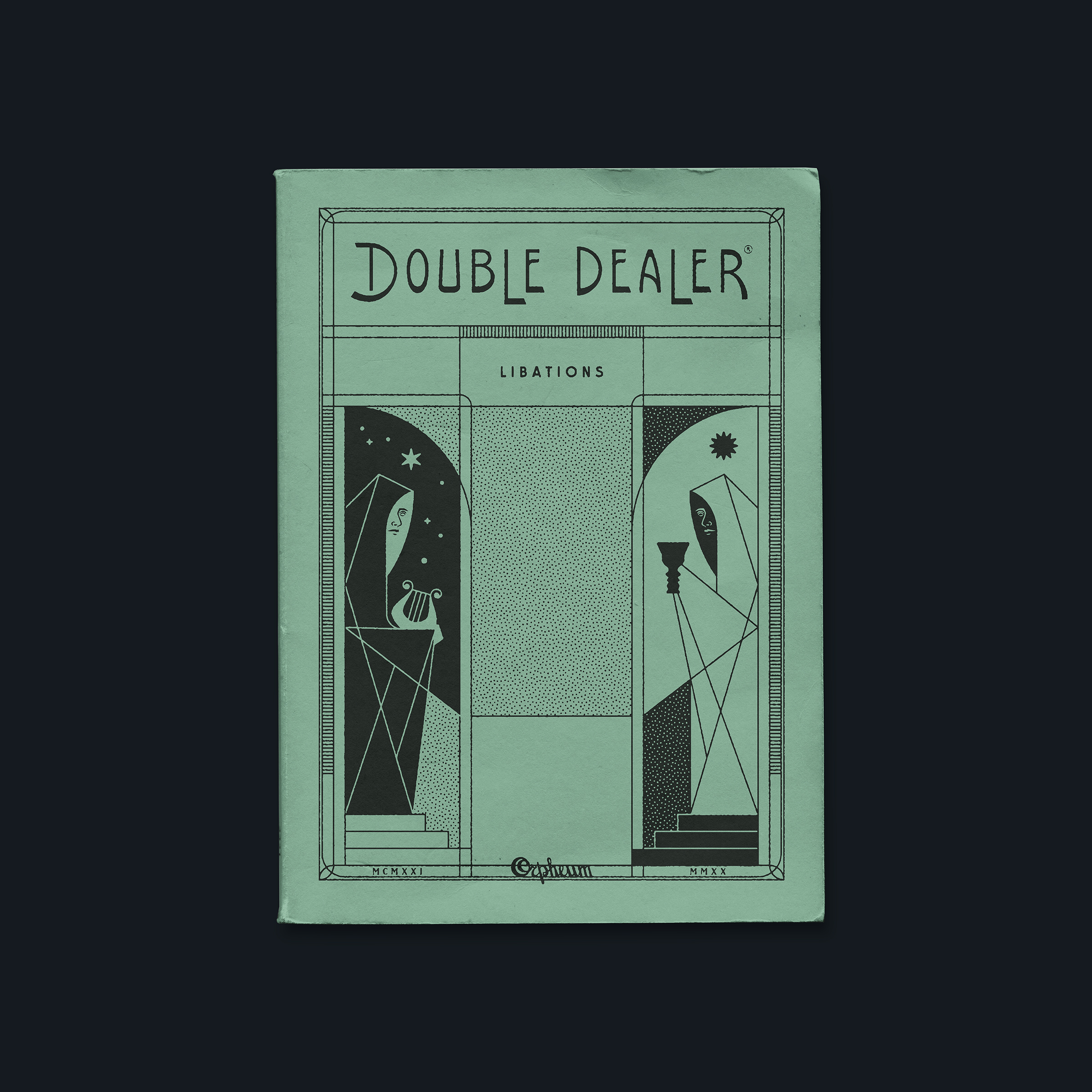 I run a micro
Risograph print studio
, printing posters, flyers, and other odds-and-ends for local makers. During my free time, I like to experiment with this printing process by making my own work. I started designing these sequential patterns as an outlet for topics I tend to over-think.